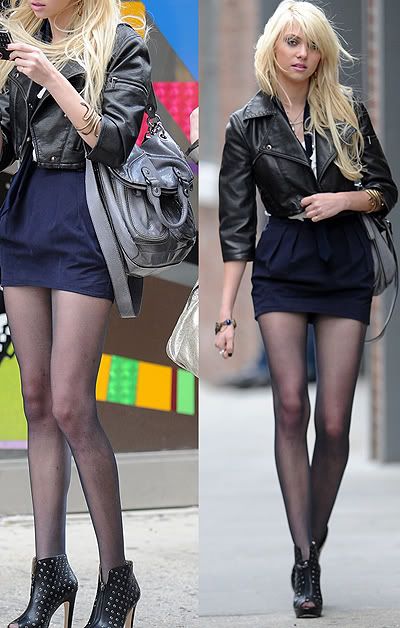 So I've heard nothing but high critique of this outfit spotted on Taylor while filming GG and I have to say that I actually love it. Granted, the skirt is too short but that can easily be fixed. All too easily indeed. So I've re-worked it and I realized, this outfit is so easy to duplicate at home with the right pieces to make it suitable for a great rocker school girl look that a 20-something can rock. Literally. I actually believe I can do this outfit next week, it's that time of year to break out the leather jacket I use when listening to Joan Jett. I just dated myself, didn't I?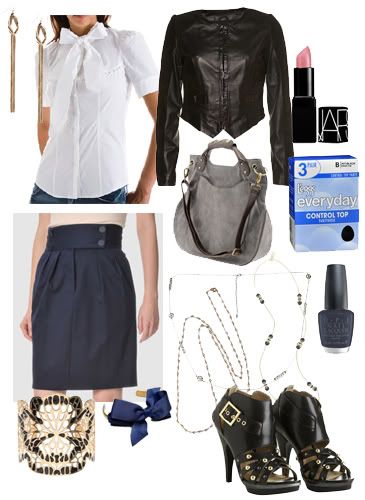 Skirt, Stella McCartney $98, Blouse, Armani Exchange $39, Leather Jacket, TopShop $250, Bag, Pink Studio $80, Necklace, Max & Chloe $25, Necklace, Liz Clairborne $29.99, Necklace, Otte $45, Cuff, Forever 21 $6.80, Bow Cuff, In God We Trust $34, Earrings, Forever 21 $3.80, Shoes, Arden B. $58, Stockings, Leggs $5, Polish, OPI 'Russian Navy Matte' $8.50, Lipstick, Nars 'Roman Holiday' $24

Voila! Decent Jenny-Humphrey! I'm actually a bit in love with it. Especially with the shoes & purse. I think this is def. a
get in the next paycheck
thing.
On other notes, I will be posting my swatches for Matte look over my current nail polish collection. I am not going to buy the matte polishes, I'm just using Essie's Matte About You over the ones I already have and sporting them.