I have been obsessing this entire past week over this gray tweed skirt I bought online and it took FOREVER. FOREVER to arrive. Upon arrival yesterday I am pretty sure I squealed loud enough to be the one responsible for the neighbor's chihuahuas bark attack. For that I am sorry. But I am most certainly NOT sorry for the
first
outfit this skirt will provide. It's such a classic A-line thing and it fits SO well that I am quite enamored with it (my ass looks like JLo's, tyvm, Puerto Rican Genes). It took so long to arrive that I had the look I wanted for it ready before the damn thing had reached Florida's borders.
We had these big wigs coming to work today, including out company's CEO and of course everyone is running around like mad with a stuffy suit on. I, for one, do not like suits. They make me look boxy and they are uncomfortable and restrain me from being my usual talkative social butterfly self. So I always turn to A-line skirts for these types of days at work. Mind you, I pulled the majority of this from my closet and was awaiting the skirt's arrival.
So here it goes: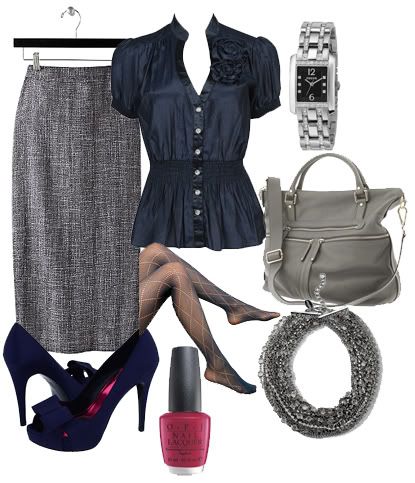 Skirt, Spiegel $39, Blouse, Forever 21 $23, Shoes, RSVP $85, Necklace, White House Black Market $58, Handbag, Banana Republic $250, Navy Tights, Urban Outfitters $18, Watch, Fossil $95, Polish, OPI 'Conquistadorable' $8.50

And voila! I had bought the patterned navy tights some weeks ago, had the navy ruffled blouse, the large gray purse, navy pumps and I paired it with my chunky silver necklace and my watch and yes; I looked fantastic if I dare say so myself. I also added a black lace camisole to not show off the ladies. I smiled and shook the hand of the investors, had lunch with them and didn't even drop food on my blouse. I know it's a pretty bland outfit but this is what we do in corporate America. With stick to the basics. Yet compared to all the other female managers that sported the basic black suit (pant suit, mind you), black pumps (with chunky heels, ugh) and black sad bag I looked like the Anna Wintour of them.
The reason the purse was so big is because once they leave in... about fifteen minutes ;) I will be changing in my office for dinner with my cousin who lands from Puerto Rico. I have to entertain him for about 2 hours until his boyfriend arrives from Gainesville. So I will drop the skirt <3, the watch and the tights and grab my skinny gray jeans and silver cuff and I'm ready for Casual!Isabelle and I'm sure it'll be gay-approved.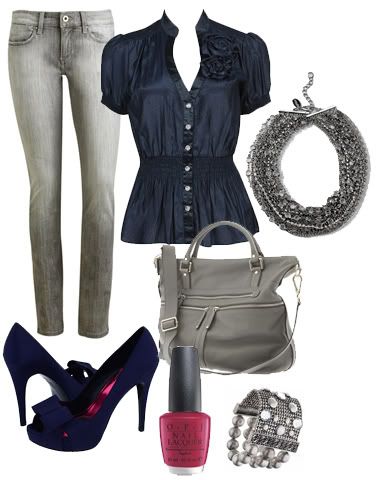 Jeans, ArdenB $78, Bracelet, TopShop $30