So part of this weekend was spent watching
Pasion de Gavilanes
and I really shouldn't have because it's one of those corny Spanish soaps that becomes addictive and you find yourself wanting to know what happens yet it's so bad you're ashamed of yourself? C'mon, we've all been there. So the three female leads wear a lot of jeans and a lot of skirts with knee-high boots.
By the time I made myself part with the DVD I was somehow wishing I lived in a ranch, rode horses and held on tightly to family values (
and of course had a HOT Reyes brother after me, that would be great too!
) I shouldn't have shared this info with my boyfriend because he laughed at me and said I would never survive in a ranch. He's right, of course, the mere thought of manual labor and shoveling horse excrement sends me into anaphylactic shock but it doesn't hurt to dress like it and walk around pretending I'm a cowgirl, right? Right! So that is what happened this morning. I slipped out of the house before he woke up because I KNOW he would've made fun of me.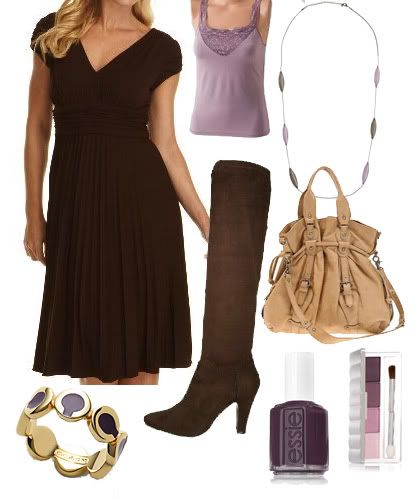 Dress, Suzi Chin $72, Lace Camisole, Vanity Fair $14, Suede Boots, Rebels $80, Purse, Sabina $225, Stone Chains, Arden B $18, Ring, Coach $58, Polish, Essie 'Sole Mate' $8, Eyeshadow, Quad by Clinique 'Blacks to Violets' $25

Yeah? Nay? Oh whatever, give me a pony and a straight man in tight jeans and I'm game.