I think my biggest challenge when lusting after outfits is to make them work-appropriate because really, this is where I spend most of my time. Five days a week - sometimes six - and I find that the majority of my closet is office-aimed. Because I have no choice, because even if I were to meet up friends after for drinks or dinner I still need to look presentable in the office. When I spotted this Blair outfit I was like - in love. Seriously. I thought I would not be able to replicate it until I found the skirt. And you know, sometimes all you need is one piece and everything else comes in place from there. So here it is, the work-friendly Waldorf.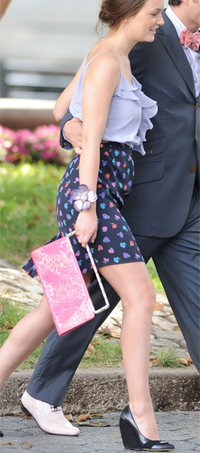 I can't wear the strappy blouse to work because quite honestly I'd freeze to death and you'll find me years later (at least I'd look cute) but also because these straps are not appropriate for work. So I found a more conservative blouse that still has the regal feel of this outfit along with its playfulness.
Spotted Skirt, Miss Selfridge $10, Blouse, Modcloth $50, Purse, Marc B $57, Shoes, Aldo $90, Bracelet, Kenneth Jay Lane $163, Polish, Rescue Beauty Lounge $18

I changed the purse because I wouldn't be able to even fit my blackberry into that tiny little thing and quite honestly I carry a lot more shit in my purse. My purse is my life so it needs to be roomy and big. I know the purse looks small here but on the model it looks a descent size (I realize that's an oxymoron as many things can look quite large placed against a model).