So OK there's an awesome story/love story in this film. But seriously? The fashion in it also rocks. Nicole was dressed as the epitome of 1940's social class and elegance. Her outfits which wavered from prim and proper to more relaxed and appropriate for the Australian outback are all worthy of admiration. But I'm not really surprised, Catherine Martin the designer worked on such films as Moulin Rouge, Romeo + Juliet & Strictly Ballroom so she knows how to work these stunning outfits and make them art-like.
I selected a few Nicole outfits that I found and then searched for some matching modern ones. I'm not really attempting to create a concrete look but more to give you a feeling of what you may want to look for when re-creating this time period.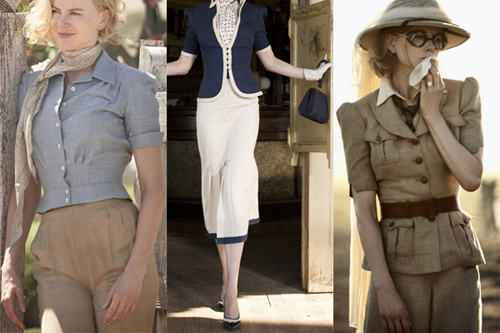 The casual Nicole used a lot of khaki, always fitted, emphasizing the waist area. There's a lot of shrunken blazers, scarfs, gloves, belts, a-line skirts and loosely tailored pants. I found some pieces that can emulate this.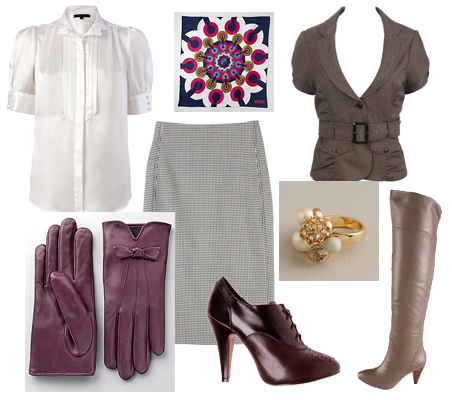 Gray Skirt, McQ $127, Blouse, French Connection $118, Scarf, Coach $68, Cropped Blazer, Charlotte Russe $33, Gloves, Lord & Taylor $59, Boots, Guess $198, Booties, Fauta Moretti $118

Then we have a dressier Nicole and her use of dresses with a stunning array of leather belts that just added that 'I'm a tough girl now' look to the evolution of her character.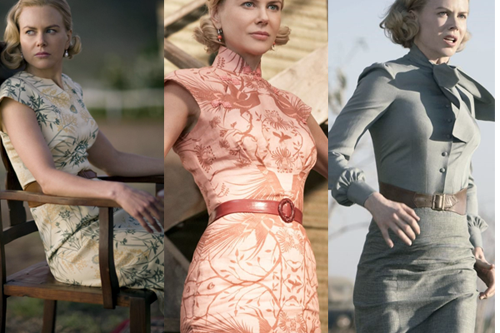 There's a lot of cap-sleeves, very fitted, Asian-inspired and minimal jewelry. I found a few dresses can be like this look with the belt & conservative earrings. Also, the pumps with the strong heel was class of the 40's. I find that a lot of these looks can be found in vintage dresses so check there first before spending money on a brand new dress.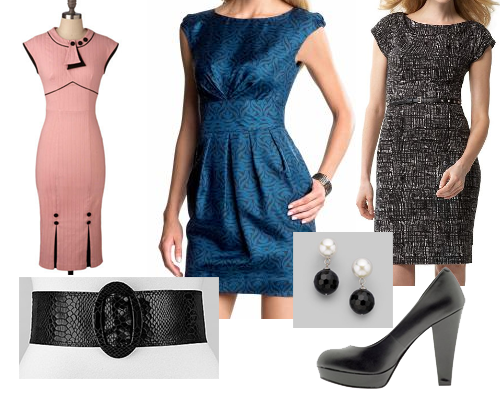 Pink Dress, Mod Cloth $160, Blue Dress, Banana Republic $132, Black Dress, Calvin Klein $80, Black Belt, Lord & Taylor $58, Earrings, Majorica $95, Shoes, Chinese Laundry $70

By the way, 1940's hair is super easy to do if you have wavy hair, like mine. Just wash, apply anti-freeze serum, do a quickly blow dry with a round brush and then part the hair in 2 or 3 parts and make buns out of the pieces. Spritz a little hairspray on it and keep them bunned while you do your make-up and get dress. Then, just before you head out the door, unravel the buns and your hair will be bouncy with soft curls. Runs your fingers through it, pin one side up if you like and VOILA! 1940's hair. I realize this is how I do my hair each morning, if that's not living in the past I dont know what is.