Guess who was channeling their inner rock-goddess last night? Moi! And may I mention that my bag was large enough to fit an extra pair of slick black heels but my shoes didn't hurt AT ALL so I never took them out.
(I think it's cause I was severely intoxicated by the end of the night and I'm pretty sure I yelled at one point 'I have no legs!!' to a random college guy.)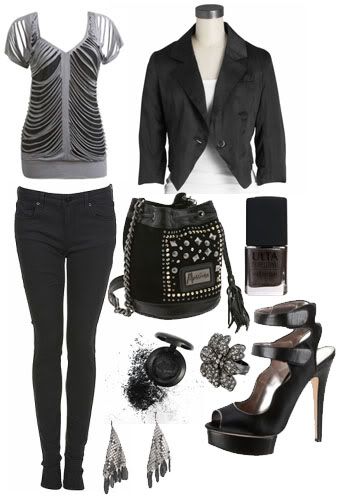 Black jeans, TopShop $80, Shirt, Arden B. $38, Jacket, MinkPink $124, Shoes, Bebe $129, Bag, Marciano $195, Earrings, TopShop $18, Ring, New York & Co $19, Eyeshadow, MAC 'carbon' $14.50, Nailpolish, ULTA 'twilight' $7.50
For my hair I was feeling Sienna Miller in Alfie so much that I styled it like hers.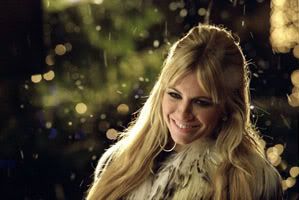 Since my hair is now officially in the super long range (I swear to cut it before it hits my ass) I was able to do it.
Speaking of outfits that are love incarnate. I think this one is just... well, you judge.
Dearest Blair Waldorf. You rock my fucking life. The coat, the lace stockings, the shoes (!!!!!!!), the necklace, the peek of the lace underneath, the over-sized satin clutch, the hair....

Perfection. When I grow up I want to be like her. Here endeth the fawning.