Going back to my ever so favorite preppy looks I continued with my dress/skirt tirade. I can't help it. There's something fun and lovely about wearing a skirt with sky-high heels and a lovely purse. I grabbed a purple dress that had been chilling in my closet for a while without any interaction and I paired it up with my new cream fishnet stockings that arrived in the mail. (<3 the mail)
It come out something like this: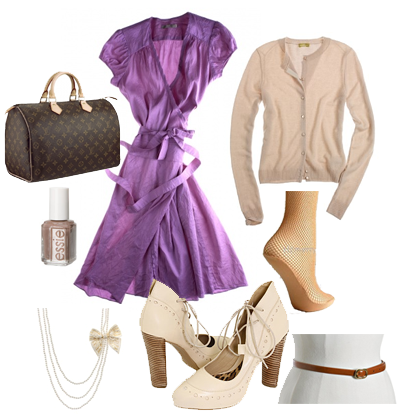 Dress, Calypso $175, Cashmere Cardigan, Jcrew $99, Cable Stockings, DYNY $18, Shoes, TypeZ $79, Handbag, LV $690, Belt, Michael Kors $22, Necklace, Charlotte Russe $15.50, Polish, Essie 'Mink Muffs' $8.50

Very simple and you can recreate it at home. Grab your favorite girly dress, throw on a cardigan, belt-it, add some fishnet or cable stockings, some heels, your favorite cream shoes, some faux pearls and a neutral bag. VOILA! Instant hottie!
I bought my LV Speedy back when I was in my early 20's, to be honest it comes out to play like never. I think it's a bit pretentious but for the money I paid for it I just use it every once in a while then I quickly switch to my Michael Kors which is my current favorite <3 Because that LV is the most uncomfortable little thing in the face of this planet. I can barely squish my purple netbook in it before I have to take it out and it creates another dilema. /end of purse rant