Oh the Holiday parties. The good ones, the bad ones and the unforgetable ones. Suffice to say that we spend the most money during the holiday season, be it in presents or in outfits for all the parties you find yourself having to go to. I have gone by a fool-proof system that never fails. One dress can give you five outfits or more. And I guarantee the same people will see you and think you have a completely new outfit. How to do it?
The perfect black dress. Yes, we've all heard it but have we all practiced it? Try it. This holiday season find the perfect black dress and wear it differently to different events. Once you have your base it's so much easier to answer the age-old question of 'what am I going to wear?'.
My dress here: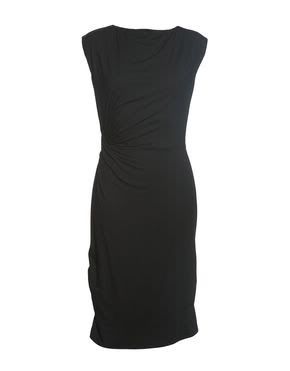 Dress, Figleaves $105.00

Hits below the knee, sleeveless and universally flattering. Timeless so once I'm done partying with it this year it can probably do a comeback the next year with updated accessories.
So which are our parties?
The work/company party
. The one you can't allow yourself to drink too much, the one you have to walk the floor and socialize while marketing how awesome you are. The trick to this outfit is the BLING blazer. The dress will be unnoticeable which is the beauty of it. It's all in the blazer and how awesome you will look with smoky eyes and nude lips.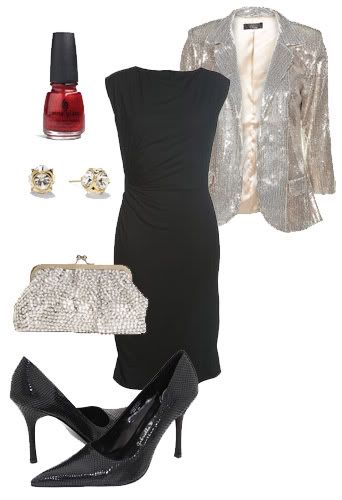 Sequin Blazer, TopShop $138, Shoes, Gabriella Rocha $59, Clutch, Windsor $23, Earrings, Kate Spade $45, Polish, China Glaze 'Ruby Pumps', $4

Because the blazer is so POW-WOW you need to keep the sparkles to the minimum. Pair it with conservative black pumps, those studs you never wear and a sparkly clutch. To add drama paint the nails red but keep the red off the lips, this is work not the Las Vegas strip. Also, if you're going for bold nails - KEEP THEM SHORT. Long red nails is such a huge no-no. It's important to remember that you're going to a work function, that sequined halter floor-length gown that you're dying to wear doesn't belong here. Crazy hair-dos don't either. Instead opt for a classic bun or a clean braid. Keep the hair off your face because it'll get stuck on the jacket. The jacket will have people talking and might even be an easy conversation starter. Your answer?
I've had it forever and finally found a time to wear it.
It doesn't matter that you go it an hour before the party.
The Trendy Party
. Everyone who is anyone will be there. Maybe it's a hip club opening, maybe it's a
tres-chic
loft party. Either way you've got to pull out what is HOT now. Forget modesty, it's time to be as awesomely fabulous as possible.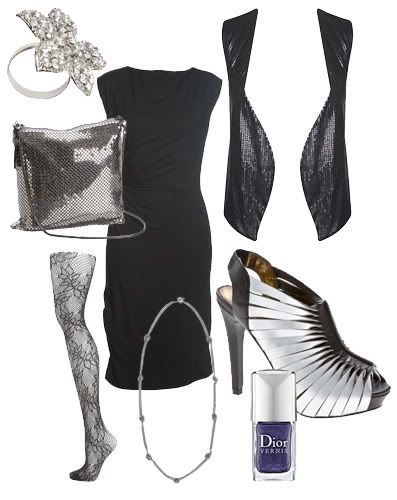 Sequin Vest, Forever21 $18, Tights, TopShop $16, Shoes, N.Y.L.A. $90, Purse, Whiting & Davis $70, Necklace, Lauren by Ralph Lauren $78, Ring, Tilly's $6, Polish, Dior 'Silver Purple' $20

Grab a cheap but fantastic sparkly vest and keep the tones even with loads of silver, black and gray. Then sparkle the polish with a fun shade like purple, violet or a HOT pink. Break out the patterned stockings, the booties and feel free to have fun with the make-up but dont overdo it. This party will be heavy and by the end of the night you dont have to look like the Joker's date. Add pieces that can be conversation starters, especially if you dont know a lot of people at the party. This is the moment for the sexiness and there's nothing sexier than a chick who can rock the urban look. Your hair, this is a great time for a half-up do, very sexy and feminine.
Partying with Friends
. Invited to a friend's house? A lot of people you know will be there? Or perhaps you're finally meeting your boyfriend's group of friends. This is a party were you're there to definitely have fun but you still want to look sophisticated and chic. They'll be LOADS of pictures in this party and you'll probably have cosmos or slutty martinis. The star of this outfit is the color red. But it's not your average holiday red that a lot of people will be wearing, it's the flamenco red which will make you stand apart but still look incredibly festive!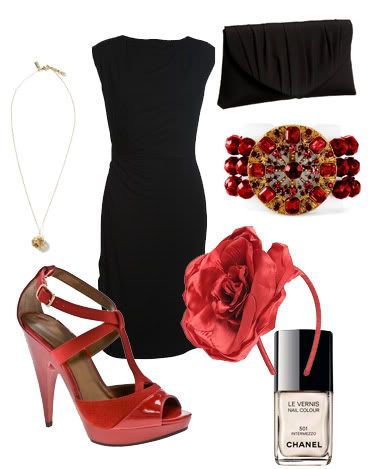 Shoes, Kelly & Katie $50, Headband, Forever21 $4.80, Bracelet, Nordstrom $78, Necklace, Kate Spade $65, Purse, La Regale $20, Nail Polish, Chanel 'Intermezzo' $23

This is a party to laugh and have a good time remember the year with close friends, this is most likely a dinner party so you're OK wearing platforms, they'll be a lot of sitting down and chatting. The flower in your head will be the talk of the party along with your shoes. If you have the boyfriend he'll totally be loving this sexy outfit, if you're flying single that guy they invited to match you up with (though you had no idea this was happening) wont be able to keep his eyes from you. Skip the jeans that you'll be tempted to wear, this ensemble will look much more flattering on Facebook. Dont do red on the face, let the blush be the color that ties together the headband. Depending on the texture of your hair you can do it loose or up.
The Family Party
. You know the one. You can't wear something that will give grandma a heart attack so you must keep in mind that this is not the time for sexy but it's the time for class and elegance. This can be either your family party of a significant others. If this is the first time meeting them you really dont want to leave a bad impression. Stick to the neutrals of black and gray, add sparkle here and there but have fun with your nails.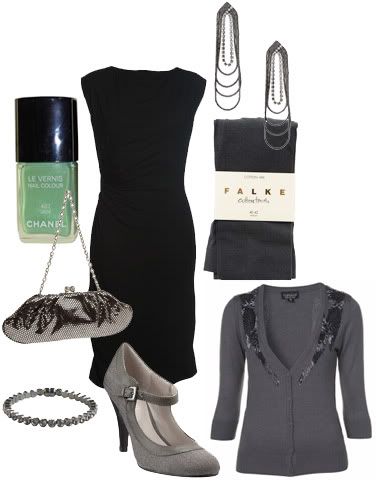 Cardigan, TopShop $70, Shoes, Nine West $79, Tights, Falke $44, Purse, FRANCHI $90, Polish, Chanel 'Jade' $25, Earrings, Guess $22, Bracelet, Arden B. $18

If this is your mother's party you know you'll be running around and helping her and if it's your boyfriends/husbands party you know you'll still be running around and helping. So comfortable heels are a must but you still want to look amazing so opt for some comfortable mary-janes. For the hair keep it simple, a straight blow dry or an elegant pony-tail would be awesome.
New Year's Party
! Yes, this dress is even great for New Year's! This is the one time of year that we can dress like this because the more bling the better. Jazz it up in bronze as it's very festive and fun and dont be shy. If you want the bronze eyeshadow - DO IT! Time for big hair or an awesome up-do is in order maybe loads of ringlets or curls.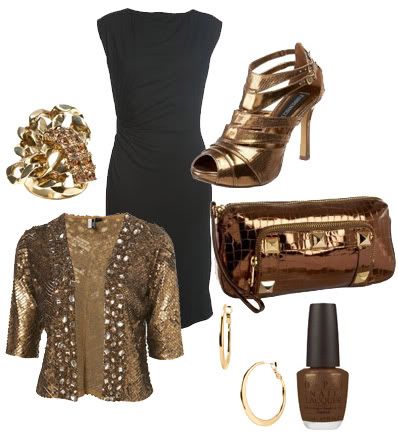 Blazer, TopShop $160, Shoes, Fahrenheit $33, Purse, FRANCHI $102, Ring, Banana Republic $26, Earrings, Kate Spade $48, Polish, OPI 'Shim-Merry' $8

Dont do red on lips, it'll clash. If you're going heavy on the eye make-up go light on the lips. And remember to have fun this night. The next morning you'll regret everything you did but not right now. :)
One dress, loads of looks. If you treat it well it can probably come back next year for round 2.