I know we've all been tempted. It's finally the weekend, time to shop with a friend or alone which ends up in lunch and maybe movies by the time the day ends. We all have those, yes? Those are usually the best days. This is in no way an excuse to leave the house looking a hot mess. I'm looking at you, person who left the house is thorn jeans, hair in a knitted beret and no make-up. Yes, you.
The best is to find an outfit that will last you all day according to your style, that it's comfortable and perfect for the post-shopping activities.
The Casual Shopper
. Loves jeans, comfortable sweaters, a pop of color and a bag that lets you use both your hands to shop. Wedges are a great replacement to sneakers or flats because they tend to be comfortable. This outfit also carries you to either meet the boyfriend for a casual dinner after you've just scored some awesome jewelry on sale.
Jeans, TopShop $80, White tank, James Perse $45, Cardigan, Splendid $72, Purple Wedges, BCBG $89, Purse, Calvin Klein $138, Necklace, Banana Republic $46, Polish, Nubar 'Pyramic Purple' $7.50

The Trendy Shopper
.You always make sure that you look the HOT thing when going to buy more hot things. So comfy shorts with tights for the cooler weather suits you fine. Low booties are perfect for trotting around town and this outfit fits you perfect for catching a movie right after or perhaps attending the live performance of your favorite acoustic band.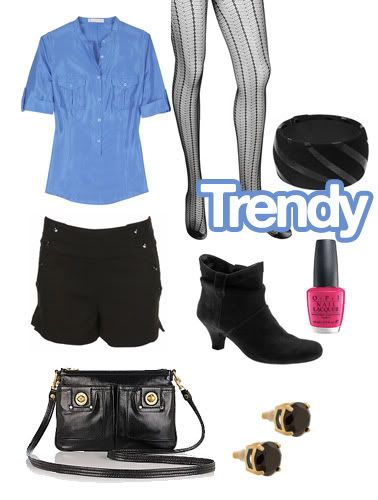 Shorts, TopShop $55, Blouse, Paul & Joe Sister $72, Stockings, Forever 21 $5.80, Boots, Jones New York $80, Purple, Marc by Marc Jacobs $198, Earrings, Kate Spade $38, Bangel, Charlotte Russe $4, Polish, OPI 'Pink Flamenco' $8

The Lady-Like Shopper
. While browsing Chanel it means you can't look like you're browsing at Old Navy. Even if you're wearing O.N. You're to look like the Park Avenue Princess you believe yourself to be. This outfits lets you fit in perfectly at Saks and it's rightly perfect to catch that Fall play you've been dying to see.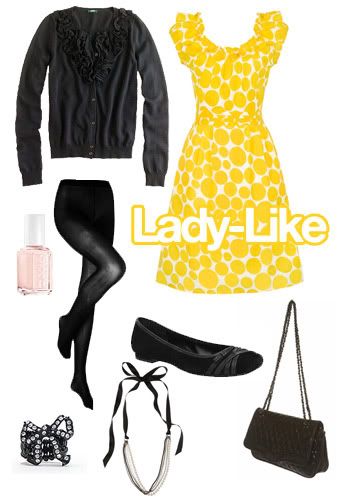 Dress, Fred Flare $30, Cardigan, Jcrew $98, Tights, Nicole Miller $21, Shoes, BCBG $50, Purse, TopShop $70, Necklace, Old Navy $14.50, Ring, Betsey Johnson $35, Polish, Essie 'Ballet Slippers' $8.50

The Preppy Shopper
. Clean & classy, this is your style. There are sales at the Kate Spade outlet and you've marked it down on your blackberry. You conquer the shops and this is perfect to meet up with your old roommate at a posh desert restaurant for heavenly cheesecake and cappuccinos.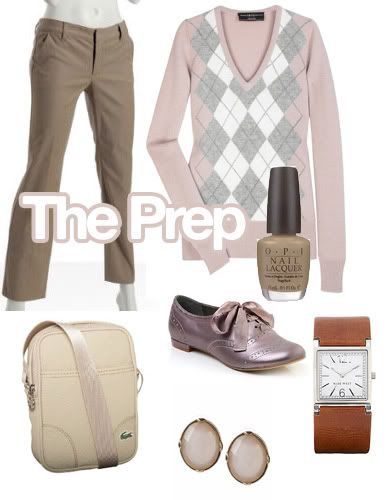 Pants, Marc by Marc Jacobs $100, Sweater, Pringle 1815 $295, Shoes, Faith Shoes $82, Purse, Lacoste $80, Watch, Nine West $39, Earrings, Banana Republic $32, Polish, OPI 'Tickle my France-y' $8