I've been hearing of E.L.F. products for a minute now and being the lovable-clueless idiot I am I didn't realize these products were dirt-cheap. Like ridiculously cheap. Like, dollar-menu type of cheap. So I saw some reviews on the products and thought; what would I waste if I spend a buck on a product just to try it out? Nothing! I spend a buck on Doritos when I'm too stressed so I figured this might have less impact on my new H&M skirt.
During work (*gasp*) I googled the closest place that sold E.L.F. products to me, though I was VERY tempted to just order them online. I figured if I just picked up the product myself I would save the shipping and I would get a better hands-on feel of what the product was about. After hunting down a K-Mart I marched there during lunch and gave myself a budget of $10. I figured with $10 I could get 3-10 things depending on what I liked. My hopes quickly deflated when the selection turned to be minimal, it seemed like they were nearly sold out of everything. EVERYTHING. While the Wet & Wild products right next to it were fully stocked and for the same price. Either people are right about this E.L.F. and they're buying them in bulk or a lot of people out there suffer from serious eye-issues.
So I grabbed what I could and I picked up their basic mascara, which is dual. It's both waterproof and regular.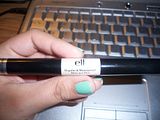 It's not the most impressive brush I've seen, quite honestly it's a bad brush, but the formula itself is not bad at all! I had to do a bit of a trick with it, to get the results I really wanted. Once applied, I let it half-dry and then pinched it with a lash curler. See the results: (sorry if my eye picture freaks you out, I was trying to keep my eye open with the flash)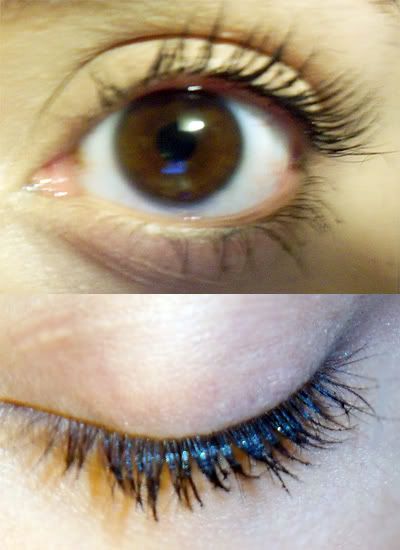 This is not bad! For a $1?! It's a great everyday mascara so you dont have to waste your really good one everyday. Now, let me show you what my lashes look like with my Dior Extase: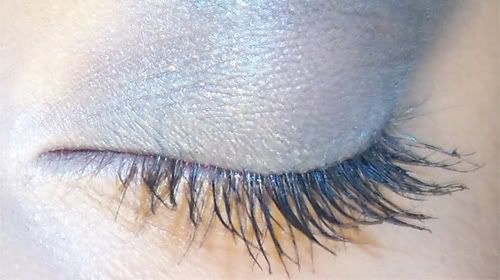 Yeah... for $1, this E.L.F. mascara is pretty darn good, remember to try that trick with the curler and they'll curl-up alright!
I also got their 'All Over Cover Stick' and I thought it smelled funky, like the smell really bothers me and it's not my shade, it's too light but I compared it to my M.A.C. Studio Finish and it came VERY close to it and once more for $1 you can't beat that!
However my favorite thing of theirs thus far is their brow gel <3 which kept my brows in place all day long and it didn't flake. Heart!
I'm going to have to go ahead and place a nice hefty order and for $1-$3 an item I doubt I'll break the bank!